Bay Area Pollution Prevention Group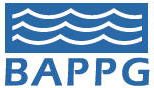 The Bay Area Pollution Prevention Group (BAPPG) develops a Bay wide pollution prevention program in cooperation with storm water management partners.  It develops a public education and information program directed to the public on how to prevent pollution through individual housekeeping practices. BAPPG provides a forum for information exchanges, sharing and regional projects.
General meetings are held from 10:00 am to noon the 1st Wednesday of February, April, June, August, October, and December. Steering Committee meetings (all members welcome to attend) are held from 9-10:00 am prior to General meetings and alternating months via teleconference on TBD dates.
Next BAPPG Meeting
February 16 @ 10:00 am

-

12:00 pm



Bay Area Pollution Prevention Group Members
Committee Co-Chairs: Autumn Cleave (SFPUC) and Robert Wilson (Santa Rosa)
Vice-Chair: Joe Neugebauer (WCWD)
Participants:
American Canyon, City of*
Benicia, City of*
Burlingame, City of*
Calistoga, City of*
Central Contra Costa Sanitation District*
Central Marin Sanitation Agency*
Delta Diablo Sanitary District*
Dublin San Ramon Services District*
East Bay Municipal Utility District**
Eisenberg, Olivieri & Associates
Fairfield-Suisun Sewer District*
Hayward, City of**
Larry Walker Associates
Las Gallinas Valley Sanitary District*
Livermore, City of*
Millbrae, City of*
Mountain View Sanitary District*
Napa Sanitation District*
North San Mateo County Sanitation District*
Novato Sanitary District*
Pacifica, City of*
Palo Alto, City of*
Petaluma, City of*
Pinole, City of*
Rodeo Sanitary District*
Participants (cont'd):
Richmond, City of*
Sacramento Department of Water Quality
Saint Helena, City of*
San Francisco, City & County of**
San Jose, City of**
San Leandro, City of (EBDA**)
San Mateo, City of*
Santa Rosa, City of*
Sausalito/Marin City Sanitary*
Sewer Authority Mid-Coastside*
Sewerage Agency of Southern Marin**
South Bayside System Authority*
South San Francisco, City of*
Sonoma County Water Agency*
Sunnyvale, City of*
Tiburon, Marin Sanitary District No. 5*
Union Sanitary District (EBDA**)
Vacaville, City of
Vallejo Sanitation & Flood Control District*
West County Wastewater District*
Yountville, City of*
* BACWA Members
** BACWA Principals
Additional resources for members are listed below.